On-chain data shows the Bitcoin leverage ratio has continued to stay at high values despite the recent decline in the crypto's price.
Bitcoin Leverage Ratio Hasn't Budged Much In Response To Price Plunge
As pointed out by an analyst in a CryptoQuant post, the BTC leverage ratio has remained at high values recently, despite the price declining to $41k.
The "estimated leverage ratio" is an indicator that's calculated by dividing the open interest with the exchange reserve. In simpler terms, what this metric tells us about is how much leverage Bitcoin futures investors are using at the moment.
Here, "open interest" is the measure of the total amount of futures contracts open on derivatives exchanges. And the "exchange reserve" is the total amount of coins currently present in wallets of all derivative exchanges.
When the value of the Bitcoin leverage ratio goes up, it means investors have started to add more leverage to their positions.
On the other hand, a decline shows futures holders are closing up their positions. This may be due to mass liquidations or because of investors opting to take less risk right now.
A mass liquidation event (often called a long or short squeeze) occurs when the price of Bitcoin makes a sharp swing, leading to a cascade of liquidations in the market.
Now, here is a chart that shows the trend in the indicator over the past week:
Looks like the ratio has been at high values recently | Source: CryptoQuant
As you can see in the above graph, while the price of the coin has gone down, the leverage ratio has remained at high values.
Related Reading | Bitcoin Prices Dragged Down By Geopolitical Tensions, Ukraine Nuke Plant Fire
The open interest has also declined slightly, which means there are fewer positions open currently. This implies that the average leverage per position has actually gone up.
The quant in the post believes that this trend may show that Bitcoin investors are now getting bolder and taking more risks.
Since the funding rate is about neutral right now (another indicator that can help us estimate the ratio between longs and shorts), it implies there are about as many long positions as short positions.
Related Reading | Bitcoin Bearish Signal: Exchanges Observe Huge Inflow From Long-Term Holders
The price action in the near future may be of interest as a sharp move in either direction can cause a squeeze and push the value of Bitcoin further in that direction.
BTC Price
At the time of writing, Bitcoin's price floats around $41.4k, up 5% in the last week.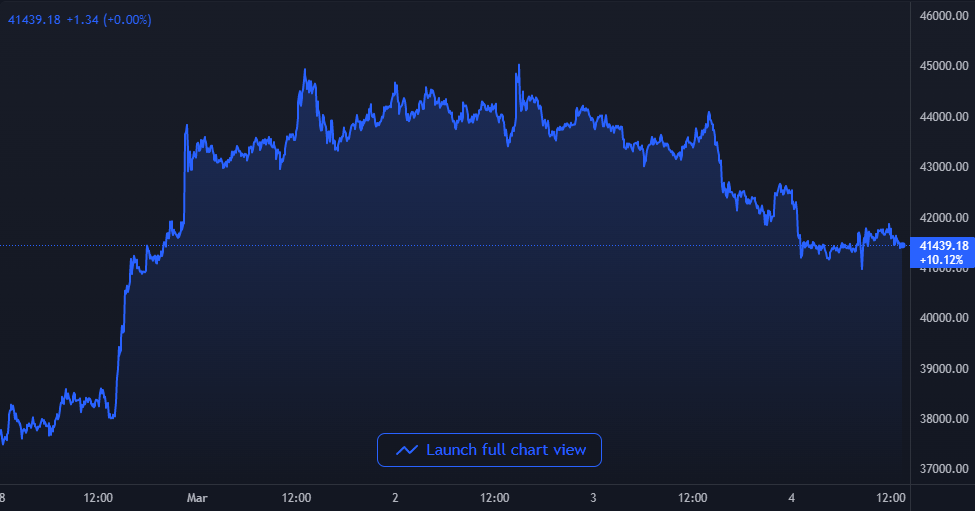 BTC's price seems to have plunged down over the past day | Source: BTCUSD on TradingView
Featured image from Unsplash.com, charts from TradingView.com, CryptoQuant.com