Cardano (ADA) has been following the general sentiment in the market. The fifth cryptocurrency in terms of market capitalization has been trending to the downside but at a slower pace than larger cryptocurrencies.
Related Reading | Bitcoin Long-Term Holders Realize March 2020-Like Losses As BTC Crashes
At the time of writing, Cardano (ADA) trades at $0.48 with a 6% and 14% loss in the 24-hour and 7-day chart, respectively. The second crypto by market cap Ethereum (ETH) records a 30% loss over the same period, Binance Coin (BNB) a 24%, Solana (SOL) a 24% loss, and XRP an 18% loss in the past 7-days.
Cardano's developer Input Output Global (IOG) recently announced two products that could contribute to ADA's price short-term strength. The company revealed a new wallet called Lace, and the deployment of a new Ethereum Virtual Machine (EVM).
Lace is aimed at being Cardano's new light wallet and to help it gain more adoption. The wallet will provide users with "enhanced capability and ease of use". IOG said:
IOG is developing Lace ‒ a 'one-stop-shop' for all blockchain operations. This new platform will be feature-packed, yet lightweight, streamlining online finance. Acting as a portal to Web3.0, Lace will encompass elements of true decentralization.
On the other hand, the EVM was deployed on one of Cardano's testnet. This tool will enable developers to build or migrate their solidity-based applications. Sebastian Guillemot, CTO at infrastructure builder dcSpark, believes the EVM on Cardano will allow the ecosystem to become a Cosmos or Polkadot-like blockchain.
This could enable products to launch independently from the Cardano mainnet and develop their own dynamics. In the future, this could promote growth across this ecosystem.
Cardano (ADA) With Increase Selling Pressure, Here Is The Critical Support
The promise of growth in the Cardano ecosystem has been one of its key fundamentals. The blockchain recently deployed its smart contracts capabilities but has yet to see it come to full fruition.
Data from Material Indicators (MI) records an increase in selling pressure from investors with asks orders above $10,000 (in red on the chart below). In the meantime, whales (purple and brown on the chart below) have remained neutral, at least, for a short timeframe.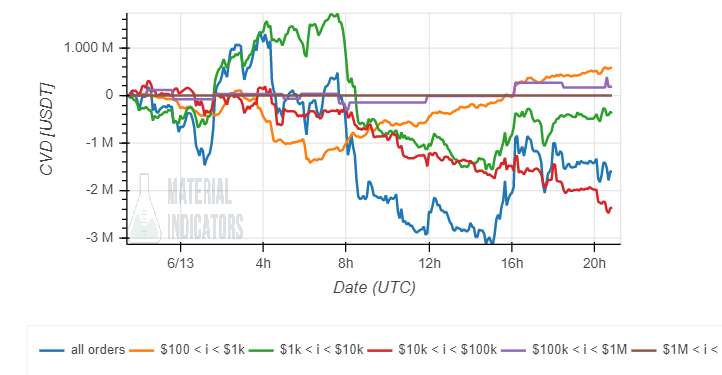 Related Reading | Rich Dad, Poor Dad Author Changes His Mind About Bitcoin? BTC Crashes To $23K
Below its current levels, there are over $1,5 million in bids orders, as MI shows. These orders should operate as critical support in case of further downside.