The long-awaited Shanghai and Capella update of Ethereum officially went live yesterday at 6:30 am EST. The hard fork has gone off without a hitch and is the first major upgrade to the protocol since "The Merge" on September 15, 2022.
For the first time in over two years, stakers and validators are able to withdraw their staked ETH from the Beacon Chain. And contrary to some alarming fears, the ETH price has so far failed to plummet.
The Latest Numbers On Pending Ethereum Withdrawals
According to token.unlocks, about two hours after the Ethereum upgrade, about 17,350 ETHs were withdrawn, and 128 ETH were deposited. The number of ETH waiting for withdrawal at that time was around 319,000 ETH (about $563 million).
Since then, however, the number has increased significantly. As of press time, there were 704,416 ETH waiting to be withdrawn, according to data from Nansen. The total number of staked ETH on the Beacon Chain including rewards was 19,227,545 ETH. This means that about 3.6% of all staked ETH are currently waiting to be withdrawn.
The number of validators waiting for a full exit was 19,621, with the total number being 567,209 validators. The net outflow since the update was activated is -55,438 ETH.
It is worth noting that the average price of all stakers is $1,973, according to Nansen, which is just above the current price. ETH thus only needs to increase by 3% for the average staker to be in profit.
According to on-chain analytics tools, Huobi ranks first with 27.5% of entities waiting to unwind their staked ETH, followed by others (19%), PieDAO (15.7%), Kraken (13.6%), and Heavy Dex Trader 0xa3d (10.1%).
According to people familiar with the matter, the large number of ETH withdrawals on Huobi is mainly related to the transfer of new and old shareholders, as reported by Chinese journalist Colin Wu. After the withdrawal is completed, the former owner of Huobi, Li Lin, has to do a handover. "Some ETH may be withdrawn and then deposited again."
According to the official Ethereum website, no transaction fee is required for the withdrawals, as the withdrawals do not compete with the execution level block space. Moreover, the website states that a maximum of 16 withdrawals can be processed in a single block.
This means that 115,200 withdrawals will be processed by validators in a single day. Subsequently, Ethereum predicts that 400,000 withdrawals will take 3.5 days, 600,000 withdrawals will take 5.2 days, and 800,000 withdrawals will take 7 days.
ETH Price Trends Up
The current data suggests that there is no rush among investors to unstake ETH. Thus, fears about an ETH dump appear to be proving unwarranted. With the current numbers, the initial withdrawals could be fully settled in as little as a week. The impact on the price is likely to be rather marginal.
Accordingly, the ETH price currently looks very bullish. At press time, ETH was trading at $1,921, eyeing a break above $2,000.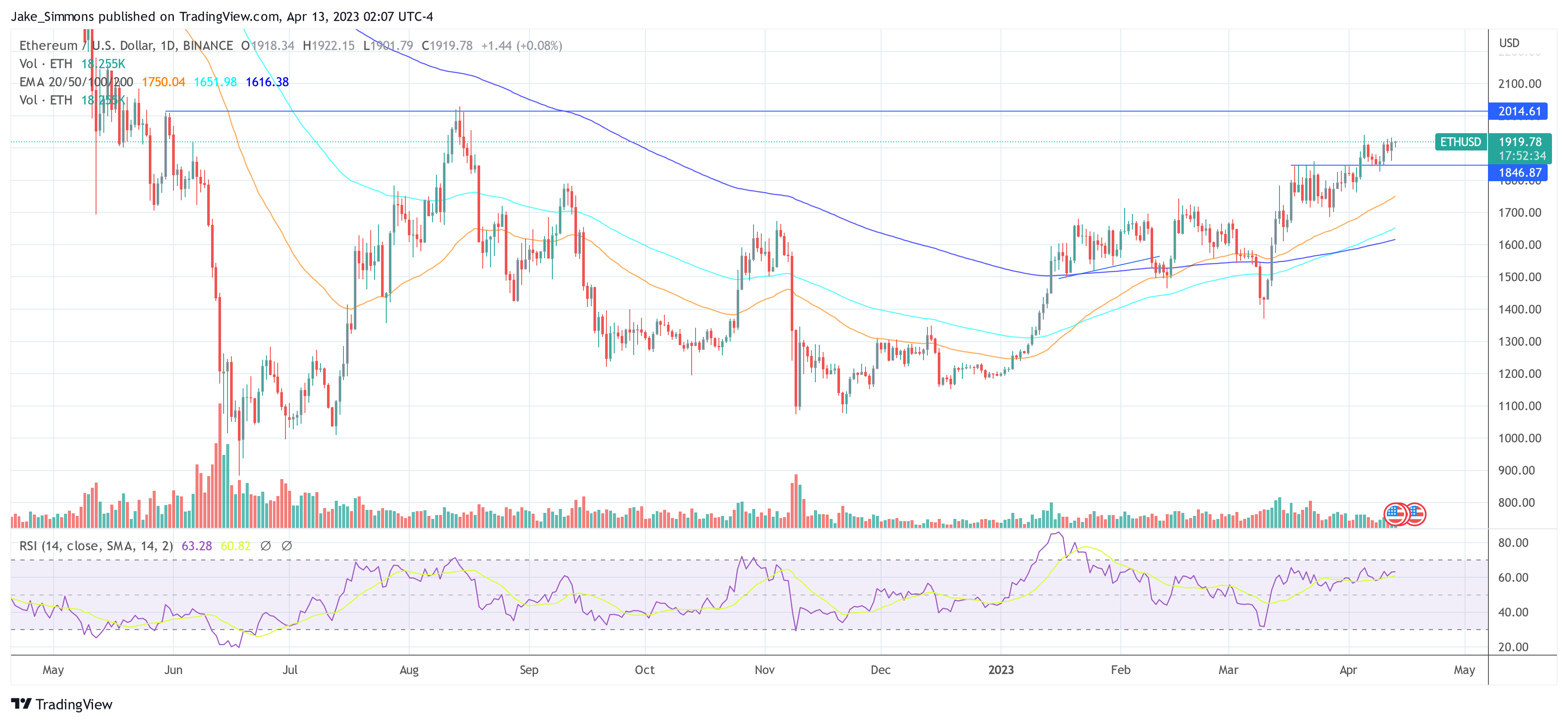 Featured image from iStock, chart from TradingView.com