Listen up, degens
Summer's out, and it is time to gear up for another season of Web3 and NFTs. Team VESA has enjoyed the refreshing (too much so at times) weather of our native Finland and some interesting connections and projects have immediately sprouted. Currently, VESA is in Switzerland for a top Web3 conference with the fastest growing crypto ecosystem in the world, Crypto Oasis, but more on that a little later.
First, it's time to give a shoutout to a friend who is a fellow pioneer in the scene with a sold out project VESA is an advisor for.
Selling out was just the beginning.
Fusing art, culture, music, gaming, film, and AI, 'SYNTHTOPIA' is a creation of DESTABILIZED, an art collective founded by creative industry veteran 'QVANTVM', with contributions from Scott Page, renowned for his work with Pink Floyd, and a network of strong partners who have contributed to award-winning AAA games, music, and films, from Cyberpunk 2077 to Batman, Warner Bros, HBO, Universal, Netflix, and Disney.
SYNTHTOPIA Rewards
Of course, the project offers a range of rewards to its holders, categorized into different tiers based on the number of NFTs held – from TRAILBLAZER (1-4 NFTs) to PROMETHEUS (200+ NFTs).

Each tier unlocks a unique set of benefits including but not limited to discounts on merchandise, special roles on Discord, exclusive access to events, earning passive income, and having a major influence over the project's direction. For example, TRAILBLAZER holders can access discounts and participate in airdrops and raffles, whereas PROMETHEUS holders can receive signed designer toys, lifetime free access to all events, and the opportunity to co-create projects or influence the direction of major endeavours.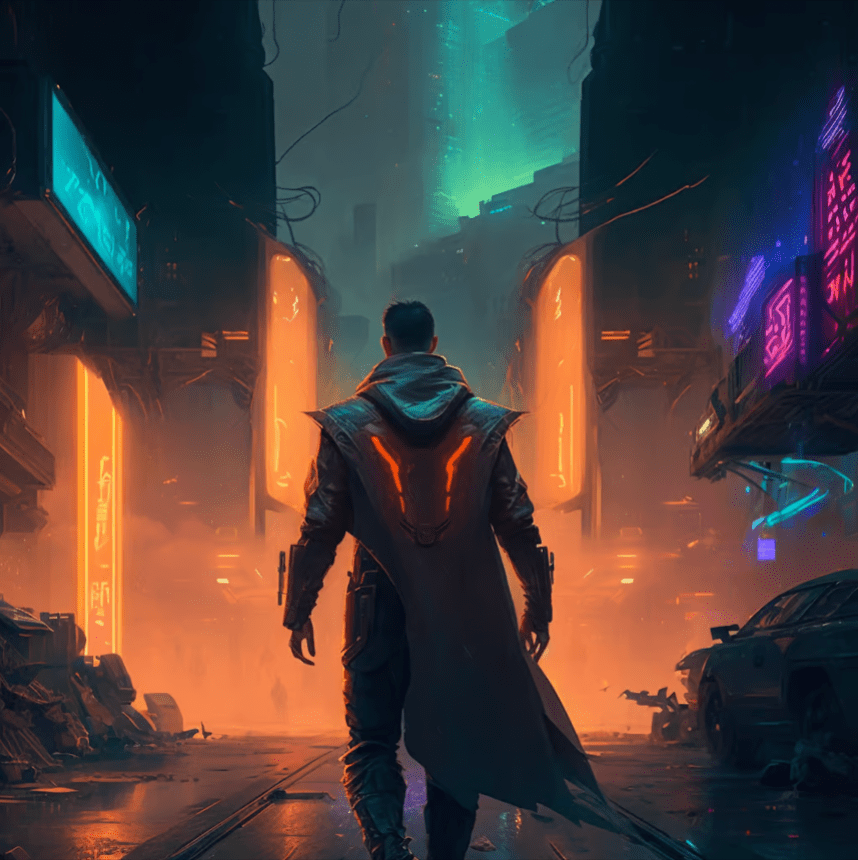 Other notable privileges for intermediate tiers include:
Executive producer credits for music/film

Major involvement in project direction

Character voice roles for movies and animations

Collaborative opportunities with top-tier artists in the ecosystem

The potential to become a project advisor

Masterclasses from creative talent

All-expense-paid trips to live shows

Passive income from merchandise, video streaming, IP licensing

Unique 1/1 art pieces tailored for the collector

Token airdrops from the Synthtopia ecosystem (third party)

Music team collaborations

More dynamic utilities TBA
More links on the project:
Website:
www.synthtopia.world
Discord:
https://discord.com/invite/cErcnDh2YM
The very cool Live performance from ETH Toronto:
https://www.youtube.com/live/UnIZlFrFWIY?si=js0D6SgRUVw1BRtm&t=23105
VESA and QVANTVM are good friends and have collaborated on many projects. The soundtrack on VESA's intro video was composed by QVANTVM.
Switzerland ongoing right now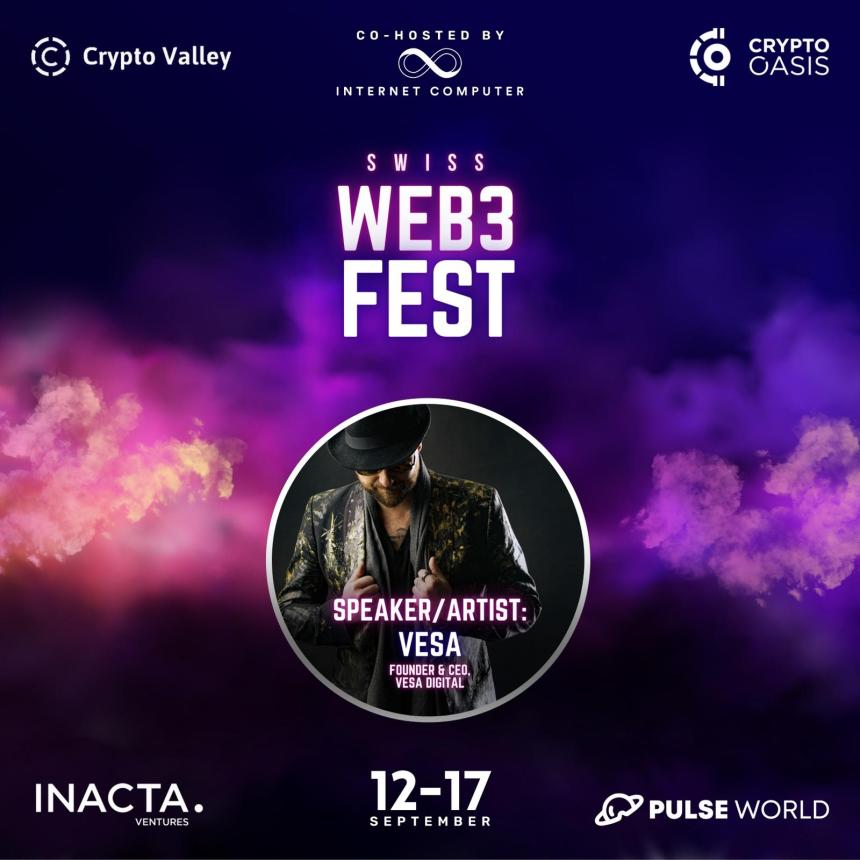 Crypto Oasis home
SWISS WEB3 EVENT
Back to Switzerland. The ongoing Swiss Web3 Fest has established Switzerland as another Dubai-esque sizzle spot for all things Web3 and it was an honour to see how this maiden voyage to Switzerland facilitated a fantastic next chapter of VESA Digital, which is the Mirrors series
Main player in the Swiss Web3 Fest is Arte Marketplace by Tokengate, an NFT platform associated with Crypto Oasis and the larger Arte community.
Arte Marketplace is a highly curated platform that leverages the ecosystem. VESA's new collection, Mirrors, is now featured on the platform, ready to be discovered.
Check out Mirrors on the front page of Tokengate here.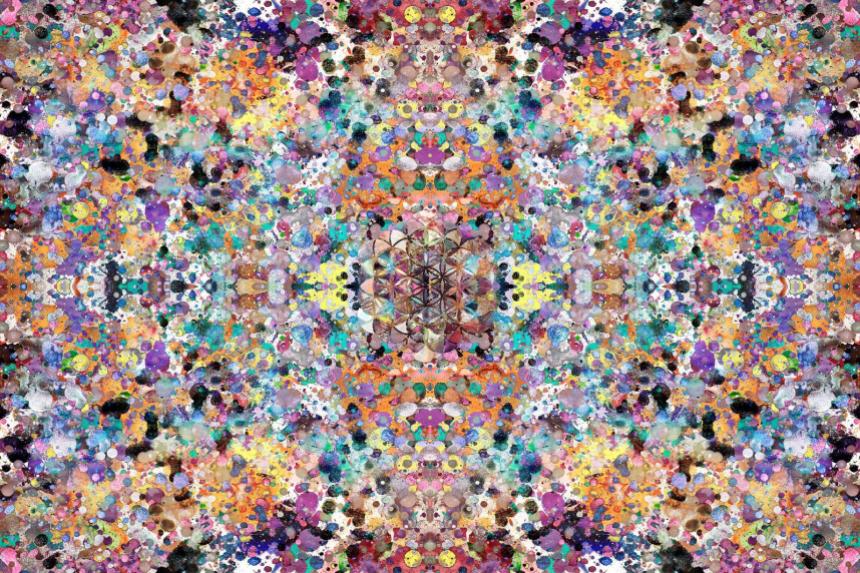 "Arbiter" is a motion artwork and now available as a 1/1 for 3.2424ETH
Collect here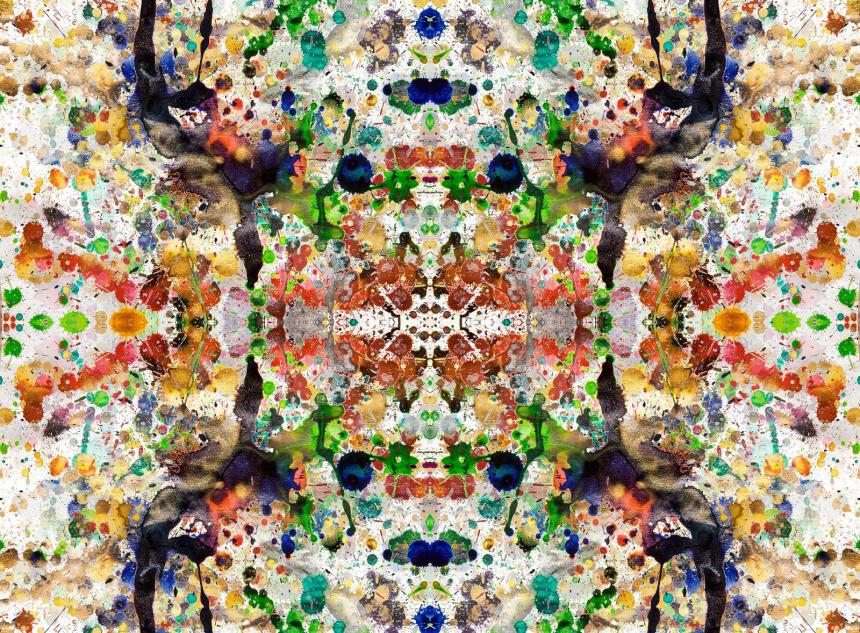 Mind-Lama is an edition of 10 only available for 0.2919ETH
Collect here
THE MIRRORS SERIES
The Mirrors started its lore at the Museum of the Future where it was the most collected artwork of the exhibition.
A familiar face joining the Swiss Web3 Fest is Thomas Cermac from Cermac-Eisencraft gallery in the Czech Republic.
His gallery that stands for impeccable taste and vision has represented VESA for a while now, and will soon be hosting the brand-new Mirrors- series at its location.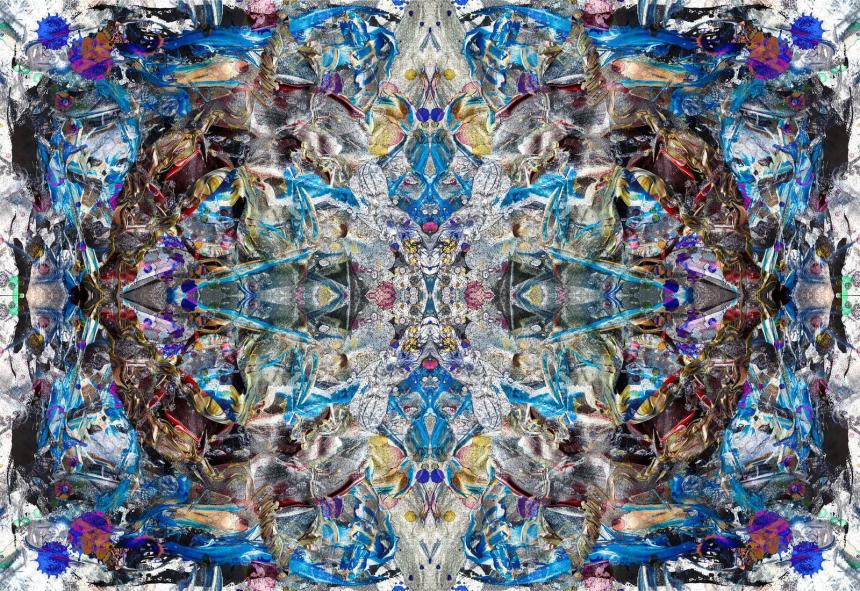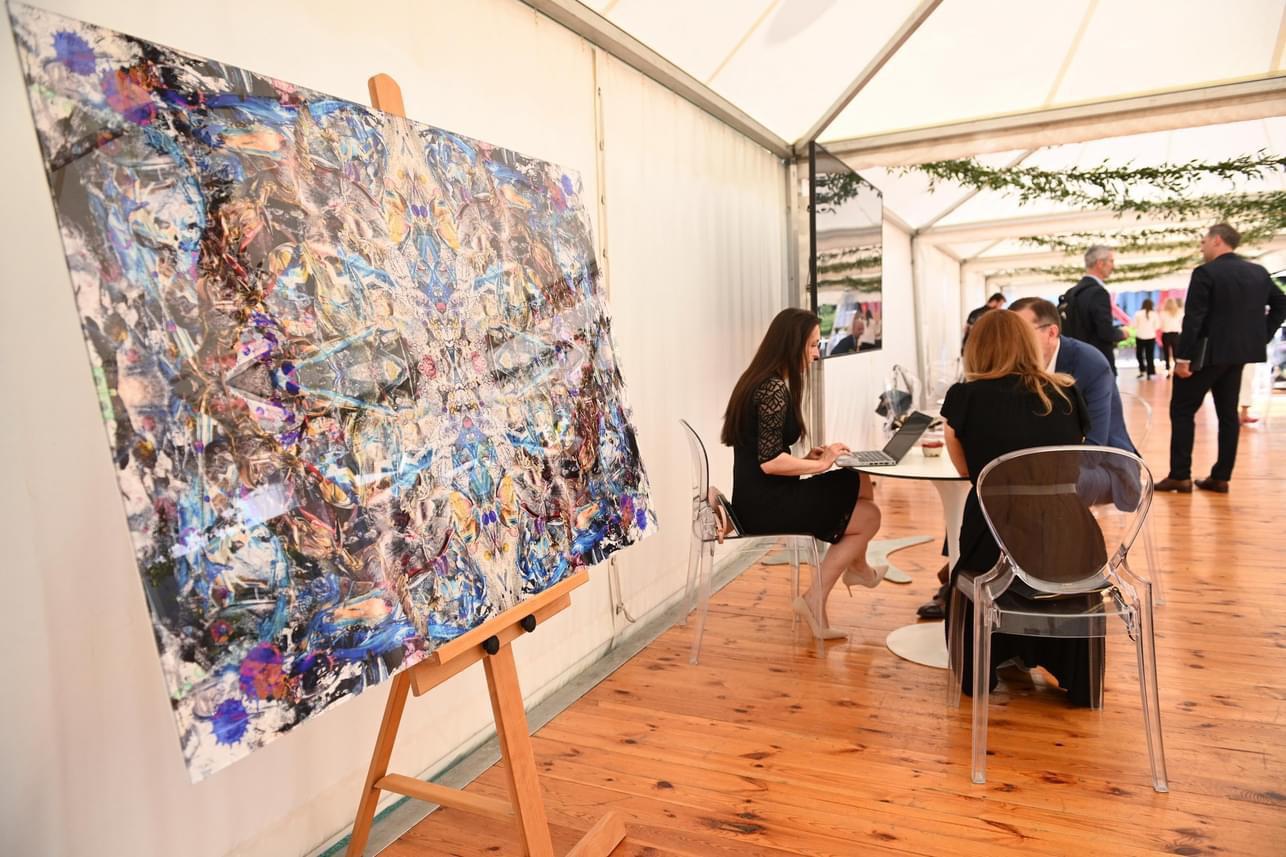 More info on the Mirrors series here
HER EXCELLENCY AND THE FINN TEAM 
One of the most prestigious fine art events in Finland, the Night of the Arts, took place again mid-August. VESA exhibited notably at the event and one of our most treasured friends and patrons, Her Excellency Amna Fikri, the UAE Ambassador of Finland, attended the event called "Art Before AI"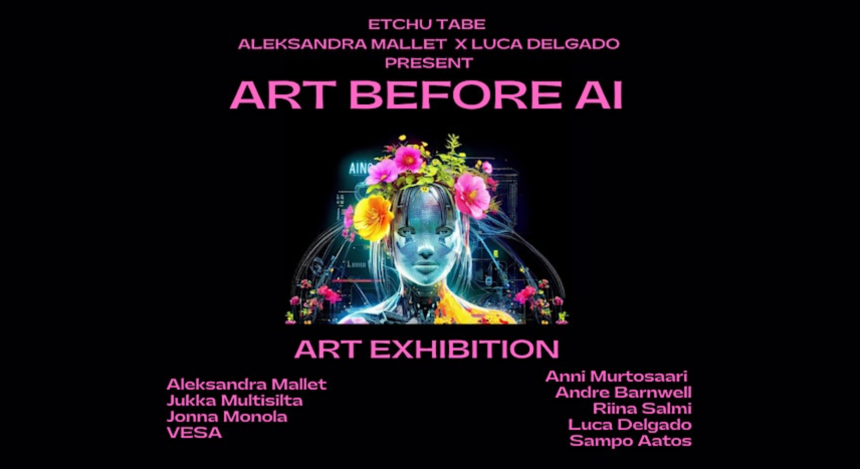 Her Excellency enjoyed the virtual reality version a selection of the Veena Malik project.
The entire Finn Team was also in attendance. Anita 'Krypto Granny' Kalergis, Pekka Kelkka aka Papa Blockchain and Elias Ahonen are all Finnish Web3 professionals, who most of the year influence in Dubai, so this was a rare treat.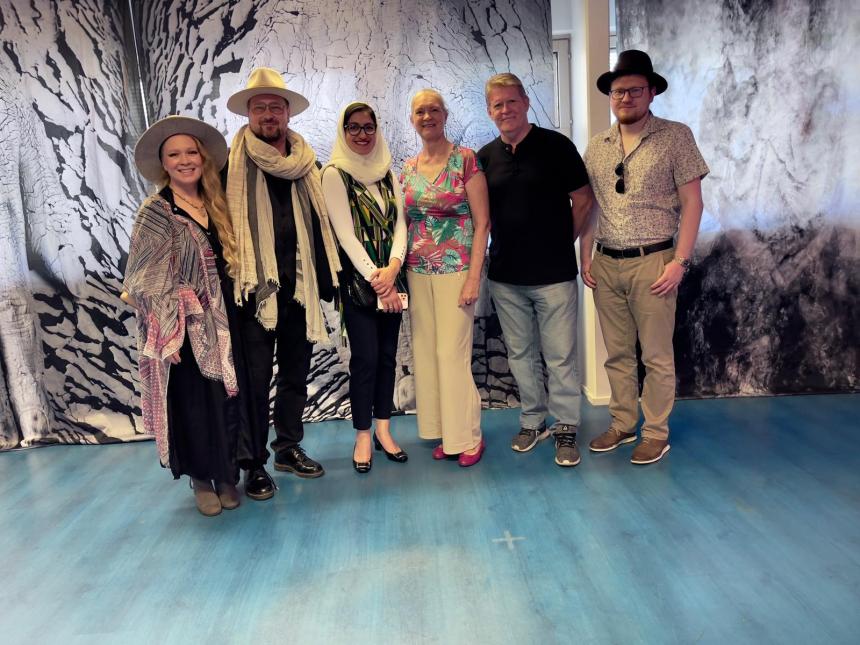 VESA and the rest of the Finn Team want to thank Her Excellency for visiting the exhibit and sharing the evening with us.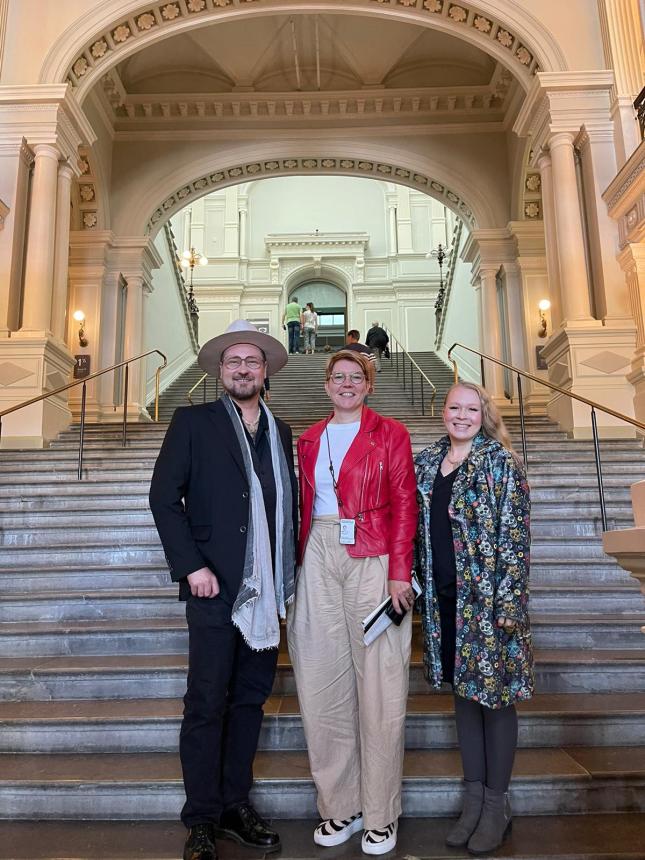 WEB3 PLANS OF THE NATIONAL GALLERY OF FINLAND

A fresh connection that kindled soon after returning to Finland courtesy of another Finnish Web3 enthusiast, Sointu Karjalainen, was meeting Johanna Eiramo, the Director of the Digital National Gallery in Finland.
Johanna said that the iconic National Gallery is interested in energising its massive catalogue of works, digitizing, and possibly turning them into NFTs.
We touched upon how these iconic institutions already have precious physical real estate and presence in the real world but are now turning their attention to their presence in the Metaverse and how to utilize technology going forward.
We enjoyed the exhibit on the day and look forward to seeing what the future holds for this collaboration.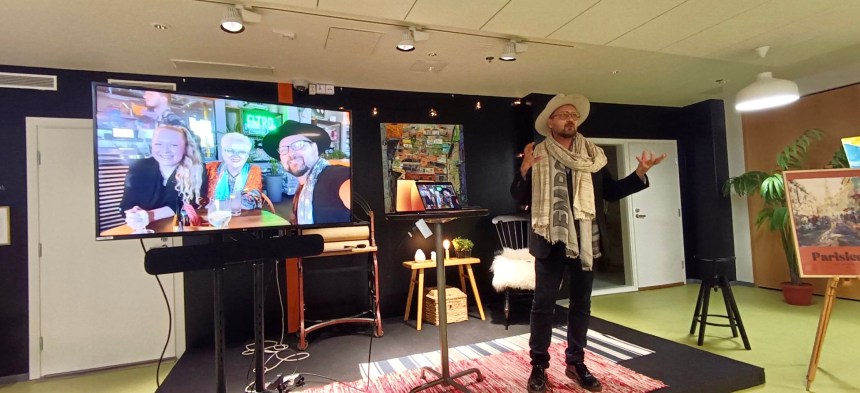 VESA did a presentation at Sointu's web3 gathering in Tampere in October
THE DEEPEST WISH

On a rare occasion, passion and profession collide. A community that has been incredibly important for team VESA is ISKCON, the International Society for Krishna Consciousness and especially our local Helsinki temple.
During the biggest celebration of the year, the Sri Krishna Janmashtami, VESA presented a work called The Deepest Wish, portraying some of the spiritual themes paramount to a path of God consciousness.
The objective was to auction the 1/10 artwork and donate the proceedings to the temple, since they had been struck with a large bill for the temple's electrical repairs.
To our great delight, after being introduced to the stage by the temple president Tapo Divyam Das, Mr. Veer Ji Wangoo immediately bought the 1/10 artwork and we got to connect with him off stage.
Hopefully this project continues to serve the community and give thanks to God who ultimately gives us the talent and intelligence to pursue these extraordinary life paths.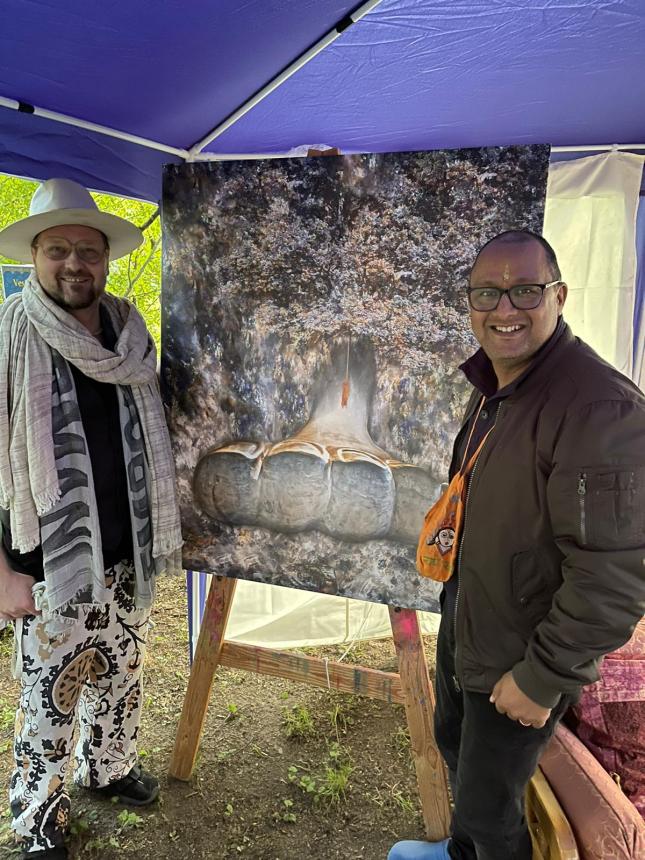 Let's spring into this new season with energy,
More on the Swiss Web3 journey soon,
Keep your flag high,
Lotta for
V E S A
Crypto & NFT Artist
All links to physical, NFTs, and more below
http://linktr.ee/ArtByVesa